so i literally can't install quilt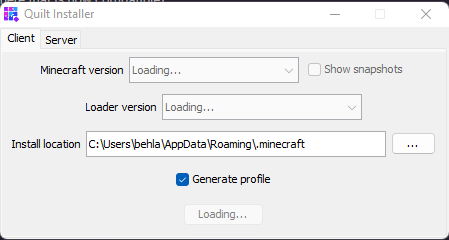 it always says loading in the exe file
I'm on windows with java 17
There are some issues with the current installer - it's currently being rewritten as a native installer, so you might have more luck with it. It's still in development, but you can grab the latest beta release here.
Ok thanks I'll try it today
it didnt work again, same response
Are you sure you didn't just run the same installer again? I have never seen this problem with the native installer. Can you share a screenshot?
i redownloaded, i tested it and it didn't work same response
We'd prefer to see a screenshot to be sure that you're using the right installer download.
I'm using multimc now, sorry for not replying for so long, thanks anyways!